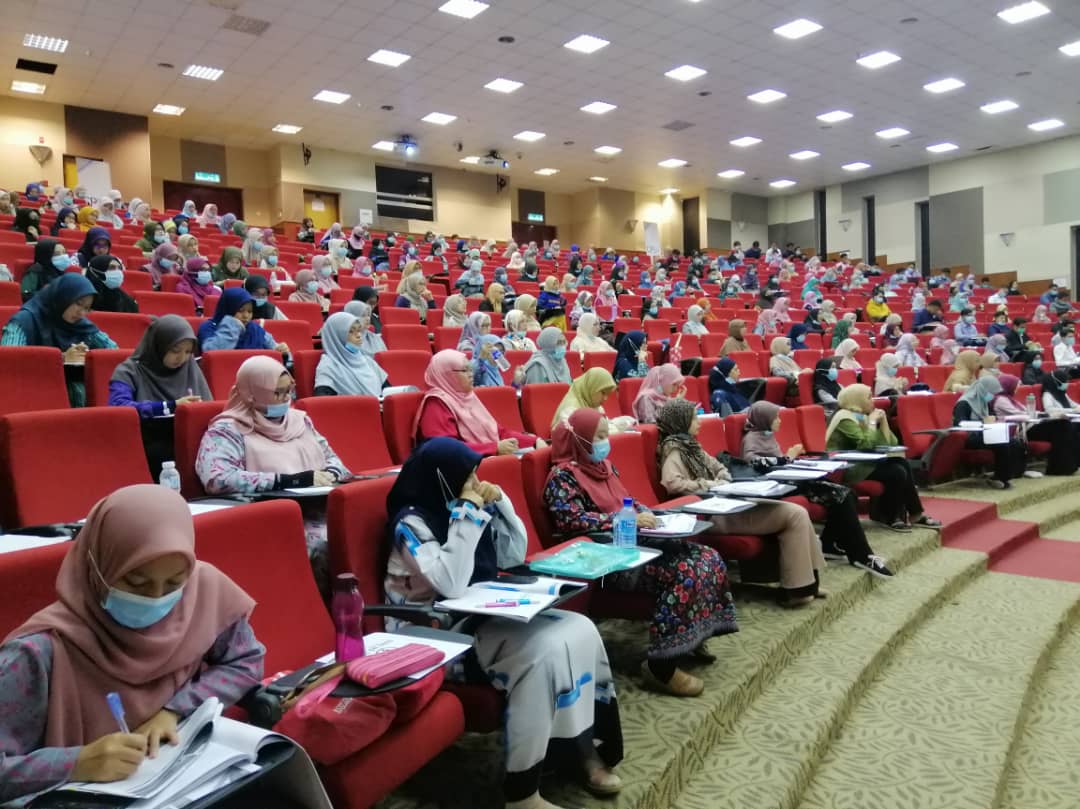 NILAI, 7 September 2020 – A total of almost 300 final year students from 13 public universities in Malaysia have successfully completed the national level graduate marketability program – Certified Professional Shariah Auditor (GE CPSA) 2020 which took place at Universiti Sains Islam Malaysia (USIM) in Nilai. Among the participating universities are from Universiti Malaya, Universiti Kebangsaan Malaysia, UNIMAS, Universiti Malaysia Kelantan, UPSI, Universiti Malaysia Terengganu and UiTM.
This program targets final year students with Islamic Banking, Accounting, Computer Mathematics, Financial Mathematics, Natural Resources Economics and Muamalat or Shariah. It is part of the initiative of the Ministry of Higher Education (MOHE) to increase the level of marketability of graduates as well as to produce shariah auditors who are trained in meeting the needs of the industry, especially in the aspect of Islamic Finance.
The GE CPSA program jointly organized by Universiti Sains Islam Malaysia (USIM) and Islamic Banking & Finance Institute Malaysia (IBFIM) contains 6 modules implemented starting July 20, 2020 with online methods due to the Rehabilitation Movement Control Order (PKPP). Apart from that, the participants also attended the review and examination session which ended on 29 August 2020 at the USIM Nilai campus, Negeri Sembilan.
 Prof Dato 'Dr Mustafa Mohd Hanefah as the Head of Cluster Accounting, Auditing and Governance in Islamic Institutions (AAGII), Faculty of Economics and Muamalat (FEM) USIM said, feeling proud and proud because the implementation of GE CPSA program this year shows increased participation and trust given by the MOHE especially to USIM and IBFIM. The University would like to thank the MOHE for its willingness to sponsor this year's program to be held at the national level by offering more participants than just 50 participants for the same program last year.
IBFIM Chief Executive Officer, Mr. Yusry Yusuf also expressed his gratitude especially to the MOHE for its willingness to recognize the CPSA program as one of the programs approved under the national graduate marketability initiative for 2020. According to him, this allows more prospective graduates to occupy a professional program such as CPSA. This is in line with the aspiration to produce more efficient and trained Shariah auditors to meet the needs of the industry, especially Islamic finance.
Meanwhile, according to Mr. Muhammad Iqmal Hisham Kamaruddin as the coordinator of the GE CPSA 2020 program, the organization of such a program is able to provide participants with added value, especially in the process of finding job opportunities that are increasingly challenging due to the COVID-19 pandemic.
"The projection of statistics shows that the unemployment rate is increasing to almost 1 million people who lose their jobs, and this further increases the competition for prospective graduates in finding employment opportunities. Therefore, with the implementation of this GE CPSA program can to some extent help these participants in getting a job as soon as they graduate this year ", explained Iqmal.
Provided by:
Noorumaina Mohamed Yunus
Strategic Communication Center (StraComm)
Level 1, Chancellor of Universiti Sains Islam Malaysia (USIM)
Bandar Baru Nilai, 71800 Nilai Negeri Sembilan